Just wanted to share a pic of Sophie. She came home on Christmas eve and has made herself right at home (Pic 1). Update - This is my girls Sophie. Couldn't wait til,her 6 month birthday to share her pic (Pic 2). This is my Sophie at six months. Today is her birthday! Happy Birthday Sophie! (Pic 3)



My mom bought a girl from y'all about a year ago. Her birthday is actually tomorrow. She has one blue eye and is doing great! We love her so much!


Our little guy Luke. He's adapting well and is busy getting spoiled. Couldn't resist one more pic of Luke. He's having some sweet dreams here with one of his favorite toys.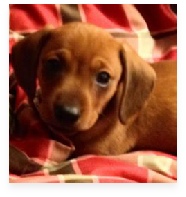 Our little Carly is now 12 weeks old & weighs 4.6 lbs. She's very energetic, Spoiled to the Max. & loves to play fetch. Anytime we take her out everyone brags about her eyes and how unique she is! She is definitely a special little girl. We have even referred a friend to y'all & she is picking up her puppy April 30th. We are so excited for her as well. ÿMinidatsun is the BEST!!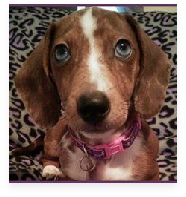 This is Elvis and Leah son, Kapone. He loves to snuggle, eat ice cubes on the back porch, and have his chin rubbed. He is a great addition to our family and loves to take us for daily walks.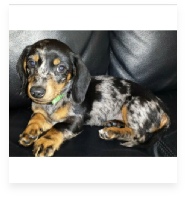 Hi it is Virginia S. with Nike & Elvis pup. She got a clean bill of health from the vet on Monday! We are still calling her Daisy! She is such a joy !!


This is the one we bought from u. She's doing good. The kids love her.


Hey Y'all! This is our little girl Carly, She is 6 weeks old. She was born 1/4/14. Her dad is Billy Bob & Her mother is Maggie. (Thank you Hellen) We Picked her up on Valentines day. She is definitely unique & beautiful. Our little bundle of joy. We loved the weekly picture updates so we could see her growth (Thank you Christina) Our little girl is so full of personality. She is very happy and adjusting well to her forever home. I will keep y'all updated as she grows. I definitely would recommend to anyone wanting a puppy!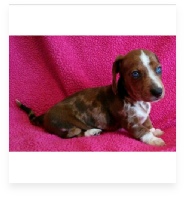 Little Boy Blu - He is such a blessing, Thank you so much! - Tina



This is Pumpkin (Cinnamon & Bad Boy's pup) at 5 months. She loves to chew on shoe strings AND EVERYTHING ELSE. She's a sweet girl with a whole lot of spunk & personality. We love her so much.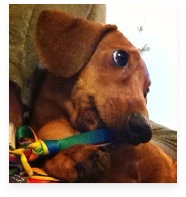 This the princess of our house Roxy who we got from y'all 4 years ago. She is the sweetest most loving lil girl and loves to be the center of her daddy's attention. Thank you Miss Hellen for giving us such a sweet and loving lil girl.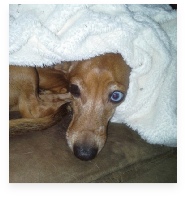 Here is Benny at 12 weeks. I will send another picture at 6 months :)

According to our writers, our puppies are !