Just wanted to let ya'll know how happy me and my family are with our new baby! Her name is Trixee Marie Bagley and she is the baby of Itsy Bitsy and Billy Bob. She has added lots of joy to our lives. She has a wonderful personality, eats well , is potty training well and weighed 2.26 pounds at her check up. Thanks so much for letting us be a part of this special babies life. Jackie & Dwain


I just wanted to tell you that Penny is doing great. She is the pup of Reba and Billy Bob. She is just a stubborn one when it comes to potty training. We are having loads of fun with her. Penny loves to help my daughter with her homework. I am attaching some pictures for you. Sherry



What a wonderful addition to our family! Oscar is a wonderful puppy. Healthy, happy, intelligent and oh so loving. Thank you. This is Oscar, this morning, with my youngest granddaughter, Scout. They are big buddies.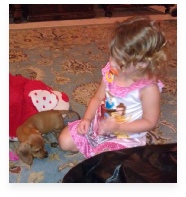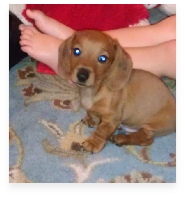 Thanksgiving week we bought a puppy from you for our 3 year old daughter Taylor. We named him Luke and he has fit right into our family. Luke follows Taylor around and they have become the best of friends. He loves to run around and play with her in the backyard but is just as happy cuddled on the couch watching cartoons with her. He has her wrapped around her finger and already knows just how to act to get his way. I couldn't imagine our house without him!! Here are some pictures we took of Luke and our daughter this past weekend in the Bluebonnets. Thanks for making my daughter the happiest 3 year old in the world! We love Luke and we all love to spoil him rotten! Sent in by Kristie C.



Here is Cruiser asleep in his puppy bed a week after he came home with us. We just love him, he's super smart, currently weighs 8.9 lbs, and can sit and shake!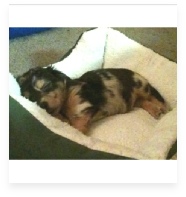 Here is a picture of Jax who thinks he is the king of the house! (pic 1) Here is Jemma, Jaxson's half sister..She is finally growing! (pic 2) Brother and Sister (pic 3)


This is Bella. She was born August 27 to Billy Bob and Snowflake, We love her so much.


Molly and Mattie are more help than Santa could handle.



Rusty spoiled in his new home!


Both dogs are doing great. They both weigh about 5 pounds. Molly is the active one and Mattie is the layed back one. They are really fun to watch play. Our oldest daughter came to visit and brought her black/tan male, Mendle. Molly has the green collar and Mattie has the red. Molly and mendle (pics 1 and 2) Molly and Mattie (pic 2) Molly Mendle and Mattie (pic3)


This is Miss Harley Heart my adorable grandpup. She is the sweetest puppy ever. She never meets a stranger and is always so excited to see you. Harley is so smart. At five months old she is house broken, can sit, lie down, shake, give you five, give you ten, and sit up like a pretty girl. She weighs about seven pounds. The vet says she is very healthy. She is a pup of Mitzi and Billy Bob. And her momma, Catelyn, thinks she is the best present she ever received. - Posted by Pam S. In May I got a precious little puppy from you. Her name is Harley and she is my baby. She loves meeting new people and esp loves giving them kisses. Her best friend is my brother's great dane Oden. He is about 100 lbs heavier than her but he lays down to be on her level to play with him. She is very smart. She is house broken and on command she can sit, lay down, shake with her left hand, give 5 with her right hand, sit up, roll over and give me kisses. She loves being outside and playing with her toys. We like to call her our Creole baby because of her color mix and the fact that we are cajun. She loves her Grand-momma and PawPaw and especially her momma =) Thank you so much for Harley Heart! - Posted by Catelyn S. Miss Harley Heart (pic1) Miss Harley Heart (pic 2) Miss Harley Heart and her best friend, Oden (pic 3)



Hello, Buttercup is doing so well and a happy puppy. I am looking for a male dog preferably a tan, cream color that will be less than 10lbs full grown. Would a puppy of Penny and Shorty be possible? You raise the greatest winnie dogs. Thanks, Shauna, proud owner-mom of Buttercup - puppy of Billy Bob and Baby.

According to our writers, our puppies are !