Hello Nancy. A few months ago I bought Sugars off you. Her mom and dad are Maisy and Wii Willy Wonka. She is white and brown.. I see you have another that was just born around July 14th that is a girl. I am very interested in her as my daughter wants one all to herself and we love the white cream colors on them..... Sugars waiting for her treat (pic 1) Sugars getting her treat for sitting (pic 2)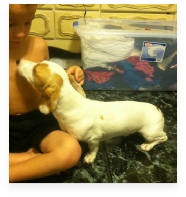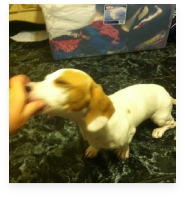 Liberty Belle is in a facebook photo contest! Stop by and vote for her until July 28, 2011 at http://apps.facebook.com/contestshq/contests/132831/voteable?_entries/25701651. She is such a sweet baby :)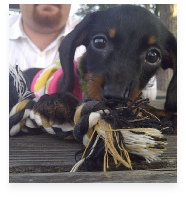 This is Myles! he is a happy and playful little man who loves everybody!!!! :) Myles! My little long man! :)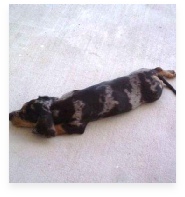 Picture of Cinnamon posted on Facebook by Johnny M.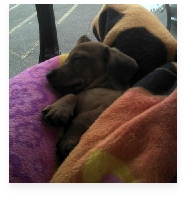 This is Thomas. He's going to be 2 this April. He's from Tammy and Rambo's litter. We couldn't have picked a better dog to be part of our family! He's looking for a weniette! lol. Hopefully he'll find his lady soon. :]


I'm loving my little puppy, Buttercup from yall. She is an absolute blast and sweetie, and loves to kiss anyone who wants to meet her.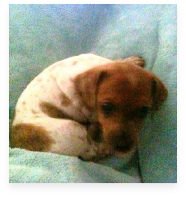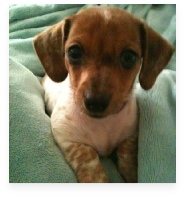 Molly in her sleeper (pic 1). Molly and Mattie After a Big Breakfast and Hard Playing (pic 2)


We got our "princess" doxie almost two years ago now, and we would not trade her for anything in the world. She is beyond spoiled and I think she owns us instead of us owning her.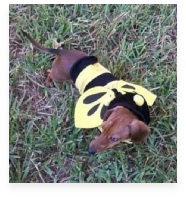 We bought a puppy from you last October here in Baytown, mom was Elsie and dad was Murphy. Just wanted to give you an update on him. We named him Oscar he'll be 1 in July and he is very spoiled and doing amazing. Thank you for such a great puppy.


Hi, I just wanted to tell you that the little dachshund we got recently is doing really good - just like another kid - he is smart & listens - like my Dad would say - better than the kids do - catches on to doing things - and is Daniel and my best buddy! He doesn't miss anything - the cats are not that scared of him, they look at him like 'whatever' - he has a big bark for a little body - my husband did the vet thing - looking for an overbite, etc., (that's why most of our pets avoid him at all costs) he is always checking their gums, etc., we are really enjoying him - I wasn't going to plug my husband until I just thought of it now - he is really good with people, and I call him the LBJ clinic of veterinarians, he just does things for people - his name is Dan Woody and his twin brother Don is also a vet and practices with him - only if you ever need someone - he has plenty of business and I think he would love to retire - but, he never will - he told my son, you'll find me fallen over in a dog run one day - such happy thoughts! He's funny! Thanks again! Darleen


Hello, my name is Abigail Pollock-Partin. I was in the litter of Bertha and Rufus. My human parents picked me up on January 25, 2009, when I was only five and a half weeks old!


By Abigail (continued from above) On April 09, 2009 I got a little sister! She was in the litter of Elvira and Rambo and she was about 5 months old when she came to live with us. Her name is Jada Pollock-Partin. At first I wasn't sure if I liked her but now I know I love her. We are healthy happy puppies and our human parents love us a lot! Thanks!

According to our writers, our puppies are !