Hello, just wanted to send an update on Benny. We brought him into our home 2 years ago; he's the son of Nike and Elvis. We recently relocated to California and he is enjoying the outdoors out here. He's a sweet, beautiful, loving boy who gets attention everywhere we go. Thank you, minidatsun, for a wonderful adoption. We will be back in Texas to adopt another puppy in the near future!.


Rusty is doing great! He is extremely playful and he likes to test me by chewing on things I dont want him to and barking at me when I tell him to stop lol. He definitely has a big personality lol. He is spoiled rotten thanks again. I have attached some pictures of him he is 12 weeks today!!


Just wanted to write you and let you know the puppy is doing great! We named him Willie and he is a little ball of energy with so much personality. We are still working on the potty training but he is making improvements. He is definitely being spoiled rotten and loving every minute of it. I attached a picture of him and my Min Pin lounging around together. Thanks again, we sure do love him.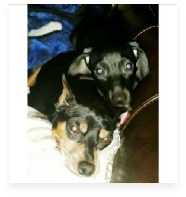 Hy TJ is doing really good I sent you 4 pictures he's eating really good he plays a lot too.


Just wanted to let you know he was completely wonderful yesterday and last night. He's super easy and slept through the whole night. Really really great dog :) I'll send you some more pictures in a couple of weeks of him. (pic 1) Just wanted to send some pictures of cooper :) he loves sleeping and being outside and is so great with other people and dogs! Vet says he's perfect and they go crazy over him every time I bring him in :)


That's T'J he's doing great he loves to play and run too. We love him so much already. I am sending you pictures I took yesterday. I am trying to get good pictures but he moves too much but thank you so much.



Thanks Christina! She's fitting in just nicely at our house. She likes to crawl up on you and lay on the back of your neck when you're sitting on the couch, and if you're laying down she'll come and lay on your chest/neck. She's also holding her own with Murphy.



Hello Helen and John, this is Milo from Annie and Rambo's litter. He's the sweetest, most rambunctious, cleverest little pup! He's obsessed with his shark bed and spends all of his time with his best friend Stella. Thanks again, he's the perfect addition to our family!


My mom took her home to Dallas last week and she said she's doing great! She checked out fine at the vet and my mom said that she's really playful and has quite the personality. Thank you again! She's made my mom really happy.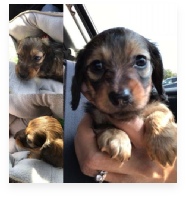 Junior is doing great! He's a spunky little guy and we love him.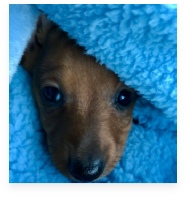 Lady Alexis. I call her Lexi. She's doing great. Sleeps with me at night and loves to play. She's very smart. I love her so much!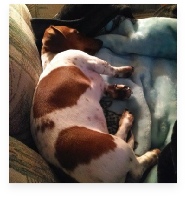 Nancy and John, We are so excited to have Lexi as part of our family. She and Ava (our other doxie) get along great. They play, they wrestle over bones and love playing and chasing birds in the back yard. We picked up Lexi at the end of May 2016 but it feels like she has been with us forever. Thank you so much for our wonderful Pup!

According to our writers, our puppies are !