That's papy he so playful I'm just sending you pictures that way you will see how he's doing.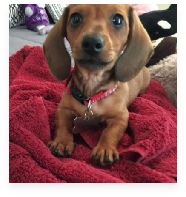 This is Bo and little one is Maggie May, our newest addition to the family! Maggie 's Mom and Dad are Ace and Barbie. She is 4 months old and a ball of fire!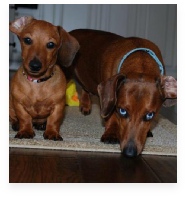 Just want to send y'all an update on Tucker! Tucker will be 4 months on June 27th. He's such a bundle of personality, there is never a dull moment when he's wide awake! Smart as a whip and hard headed as a bull. He's definitely a wonderful addition to our family. Thank you again for our silly crazy lil man.



Hellen we are in love with our Ruby-Rose already she is going potty on her puppy pads tooooooo. ÿLove from The Hodges Family. Second Picture - Ruby-Rose made a friend today.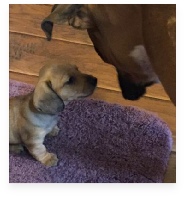 Shelby is a rescue dog which means she was unable to stay in her original home. She was returned to her breeder and we were able to find her a new home to love. We'd say she looks very happy in that cushy bed and gorgeous collar! Yay! - Minidatsun.com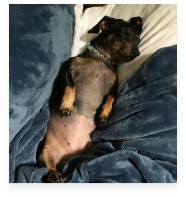 Thank you Helen! Winston is the cutest puppy and we're so grateful!


Tucker is settling in wonderfully. He met his new doctor yesterday and had a wonderful check-up. He is so very loved and already spoiled. He's a perfect addition to our family. Thank you for our newest love. He's absolutely perfect!!!


Just left the vet; Georgia is in perfect health! She weighs 2.1 lbs. She is a really brave little puppy. She is playing with all her toys, and has a good appetite. I'm so glad I found y'all!! Thank you for everything!!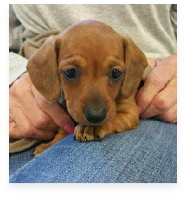 Blair in her new home. Mom - Leah, Dad - Red Barron. Loves going on walks, cuddling with humans and loves yummy treats! She is now 20 months old! Would definitely return to minidatsun for another Doxie!


Hello Christina! We bought our little Charlie from you on Halloween, and we want to update you that he is doing great! We love him to death and he is nice and healthy. He loves following us around, going to the dog park, and playing with squeaky toys. I have included some pictures of him since you brought him to us. We love Charlie so much that we were interested in getting another dachshund from you in the future for him to have a playmate. We are interested in another long haired dachshund, whenever that may be, but we are willing to wait because we think you were the best breeder we have ever came across! Thanks again for everything! Stephanie



This is Hazel. She is from Duke and Penny and is just beautiful.


Hello! We just want to let you know how is our little red male (Theo) doing! Is been almost 4 months and he is doing great!!! He is son of Woopie and Red Barron. He is a joy and a good behaved little boy so playful. Thanks again for our little boy!

According to our writers, our puppies are !