Here's a picture of Ellie Mae (Reba and Billy Bob's) Piebald Female resting comfortably with our cat Oreo. She was about 9 weeks old in this photo.


This is Dash, the son of Ace and Barbie. He just turned a year old. We love him very much, although he can be a stinker at times! Of course, we have spoiled him rotten.



Here is a pic of Chewy and Han. Penny's and Annie's males.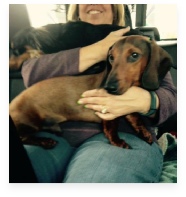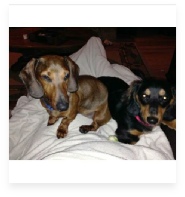 Here is Joanne's red sable female at now 8 almost nine weeks she is loving her new home and big brother (pic. 1). This is Lilly (Joanne and Red Barron) baby. She was female 3. We just love having her in our family! She is spunky, sassy and a little princess that loves her blankies! We saw the pics of her litter mate Turner and hope to see more of how he grows too. Vet says she is strong and perfect! Hug her Mamma and tell her we said thank you! From The Moore Family! (Pic. 2) - ÿAnd a diva princesses pic. too. (Pic.3)


Here's a pic of Mabel! She's doing great with potty training and loves to sleep and play! (pic 1). Mabel Update Joann & red barron. Hi Nancy, Just wanted to give you an update on Mabel! She is a healthy and happy little girl! Thanks for everything! (pics 2, 3 and 4)



Just wanted to share a few photos of Benny! We adopted him two months ago and he's already spoiled rotten. Thank you so much, Nancy, for our baby boy. He loves his new home and his human brothers. Benny is the son of Nike, and isn't he just precious? Can't wait to adopt another puppy in the future.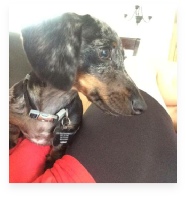 Bo and Luke Ramsey almost a year old. Spoiled rotten.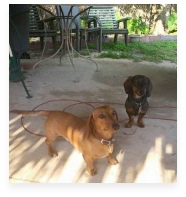 Just wanted to check in and tell you about the huge milestone Layla just had! All in all, she handled her first major 1,100 mile road trip (17 hours straight through) (at only 4 months old) fantastically!! I got a better picture of the two of them on the way. They both send their little love. ÿHope things are well with you and God Bless :)


Hi, this is my friend Neo. He just celebrated his first birthday last month. He's a dapple Male and son of Bad Boy Levi and Cinnamon. He loves people including my girlfriend ÿ(who he probably loves more than me). He always has to be the center of attention, otherwise he throws a fit. He's spoiled but we love him anyway. He's healthy and doing great. Thank you.


My name is Desiree M. & My husband Darron and I purchased Clover from you all in April, and I must say we love him. He is such a joy and definitely my daughters bestfriend. He's the first thing she looks for in the morning and at night. I enjoy having him around . Here are some pictures of our sweet baby boy. -Desiree , Darron , Madisen & Clover



Hello we adopted Rooney two years ago now and I have been meaning to check in and send some updated pictures! She just turned two in April and is doing wonderful! She's a little bit spoiled, but is such a smart and sweet girl. She's about to become a big sister next month so we are excited to see how she will adjust. ÿThank you again for giving us the most perfect addition to our family.



Here is an update on datzy she is enjoying all the love on this beautiful Friday my family n I are having a fish fry . Here is one of her face she's adorable! Her spots are darker on her body than tan on her face.


According to our writers, our puppies are !