What a nice anniversary surprise!


Our family. 3 so much alike but so different. Rosie, (left) is our old lady, age 13, is a rescue. Ivy (center) our newest, born 12-10-17, Cinnamon and Rebel. Daisy, age 4, born 8 - 13. Both Ivy and Daisy came from you. Ivy loves to snuggle with Rosie, but Daisy is her best bud. They play and run and romp. She is so full of life. She is always making us laugh. Daisy is a bit more timid than the other 2, but loves both of her sisters. Rosie is our no fear kid , but has slowed down the past year or so. We love them all! Ivy has just slipped right into her place in the family and our hearts. Thank you for such sweet, fun dogs.


We were looking at the happy home page and thought we should share one. This is Harlow, daughter of Hazel and Ace. She was born on October 31, 2014 and has been a great addition to our family. She's adventurous, loving, and a great snuggle buddy!



Harlee .... Nike and Luke's Blue dapple born on 12/9 she is getting bigger and learning so much so fast I just love her to pieces she is my little shadow that loves to play aaaallll day!!!!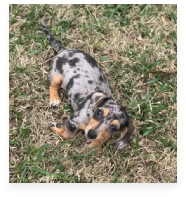 Here is our beautiful Misty, born May 2017, she brings joy to our lives each and every day. She is happy and healthy and playful and she rides with us each day to school.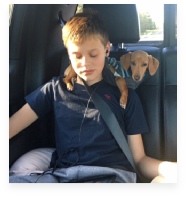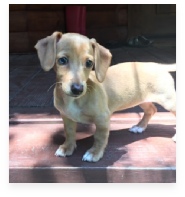 Here are some pictures of Alfie! I wanted to wait until he grew a bit!! :) We love him so much and he is loved by everyone that has met him so far! He is outgoing, never shy, and very energetic! Got his first round of shots!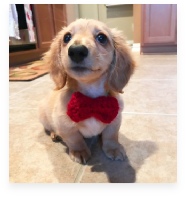 Here is Duke! We got him from yall 1 month ago! He's doing wonderful and we love him so much!!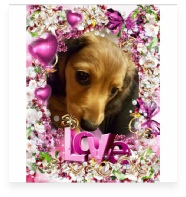 Hi Miss Nancy. It's me Lily. Thank you for taking such good care of me till I was big enough to go to my new mom, Marilyn. Dr. Kathy, my new vet, said I was in great health and I weigh 1.3 lbs which is 19 Oz. I start my shots next week . (Yuck!) And she loved me so much she stayed for an hour just playing with me! I love my new home so much I didn't even cry the first night! And I haven't cried at all unless I need to go potty. And then that's just a little whine. I'm trying to learn to use potty pads until it gets warm enough to go outside. It's tough cuz I'm so little but I'll get there. And my mommy and I love each other so much she hardly ever puts me down. Again thank you very much for taking such good care of me. Here's a picture and bye for now. Lily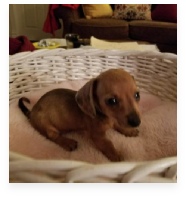 Picture of Rusty in his coat my grandmother got him for Christmas. Lol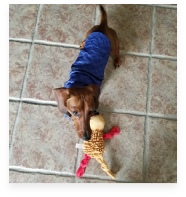 Harlee's first day yesterday and night she did soooo well!!!



Our Baron was 9 months old on January 18th. He is the light of my life. We picked him up the Sunday before Memorial Day and then drove back the 350 miles to Northeast Texas. I truly wish we would have gotten his brother too, but my wife had enough dogs at our house. Thank you for a sweet little baby! He loves to go with me whenever I leave the house. He is TOTALLY different than any other Dachshund we have had in almost 30 years. Here is his picture that we fell in love with! Thank you for providing such a wonderful baby!!



Good morning. Do you still have Reba? We got a pup from you 5 1/2 years ago from Billy bob and Reba. Cinch was the best looking dachshund I have ever seen. Even several vets said the same thing. Unfortunately we had to put him down due to a severe spinal injury. My husband and I were thinking about getting another one from his parents if possible.

According to our writers, our puppies are !