We adopted our sweet Crash a year ago and we are so in love with him! When we are ready to get him a brother or sister, this is where we will go!!!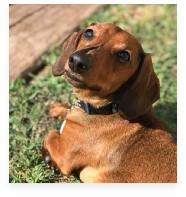 Hi Christine, Bella is doing great, she is a Alfa she bosses the 2 males she is so loved. She is a handful I love her, Buster is still not sure.


Maddie and Morgan bring us so much joy! Thanks for helping us make our home whole again. Blessings Deb and Harold R.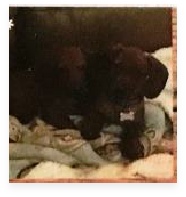 Ollie had his first birthday 10/17/17! Needless to say he didn't care for his birthday hat! However, he did enjoy his birthday cake and gifts!!

Just wanted to let you know our sweet little girl, piper, has been such a blessing! She's adapted to our home and is the sweetest dog! My kids absolutely adore her!

Good afternoon, I just wanted to let you know that we named our baby girl, Lucy. So far she is the sweetest little thing and loves lots of cuddles. She is still adjusting to her new home and us, but I know she will be just fine. Thank you again! We love her! We will send more pics as she grows.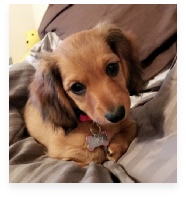 It's been 4 months with our newest member. We named him Oliver-Harley, but he prefers Ollie. What can I say about him? He has become a joy in our life. It's funny to watch him run around outside. He likes to howl with me and can't sleep unless he's cuddled in between my feet. And in the mornings he likes to wake me up with wet kisses and when that doesn't work then his wet kisses become small nibbles. Honestly, after losing my baby of 16-years, Ollie has filled the hole that was left when my first one dachshund passed away. He has truly become my fur-ever baby.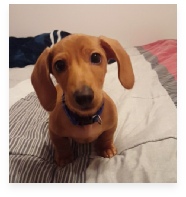 Here is cooper again he lovvvves bones that are wayyyy too big for him! Makes me laugh. He is the BEST dog I could of ever asked for.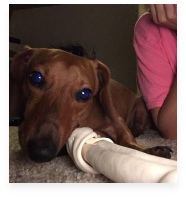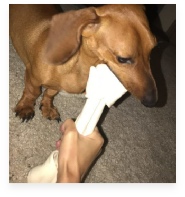 Lady is doing just great she has adjusted very well and the girls love hearing her little Scurry on the floor in the morning when they get up

These two are best friends and Rusty is the boss lol.

We wanted to update you on our sweet Baron that we picked up May 27th. I was in such mourning after losing my Sweet Scooter. We hope you all are okay from all the wind and rain. I will try posting the picture of Baron when we picked him up and one this week. I think he is 22 weeks now. Bless you all SO SO MUCH!
According to our customers, our puppies are !