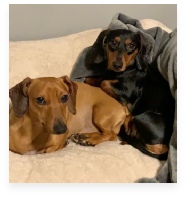 Hi I thought I'd send you an update on a minidatsun weenie we got 3 or so years ago! She's a little red and her name is Lilly she's grown to be the princess of the family since she came into our lives and love ice cream and her other siblings Brutus and Penny


Oh my goodness! So sweet! I am getting puppy fever again and Copper isn't even a year old yet!!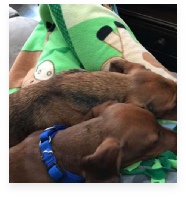 Good afternoon! Today we celebrate Lucy's 1st Birthday! She loves to snuggle, sunbathe, and play with her toys. She now has a new brother who she adores. She is doing really good and we can't wait to continue our journey of life with her!


Just wanted to send you some updated pictures of Cooper and Marley! Vet says they are perfect. Best dogs ever thank you so much!



This is me, Violet with my lambie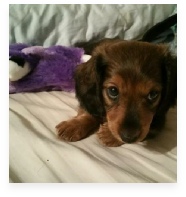 Etta is doing awesome! We just celebrated her second birthday!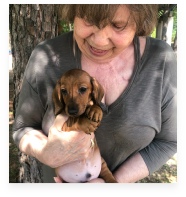 I wanted to talk with you about another puppy. Doxie is doing very well and we have had a lot of fun with her. See the attached photos Tracey took of Doxie on her birthday, May 31st.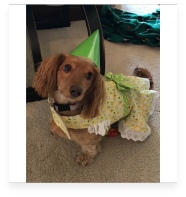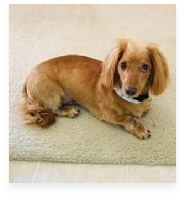 Hey there!! Just wanted to say hi and share a few pics of our sweet babies. They love snuggles and playtime! So glad these 2 joined our family!



Hi, I just wanted to share that Sadie is growing and doing amazing. Her mom is Barbarella and her dad is Zachary Nutter. She loves miniature tennis balls and can catch them with amazing accuracy. She also loves playing in the water. She attacks the sprinkler with a vengeance! We truly love her and enjoy every moment with her. She is always in motion!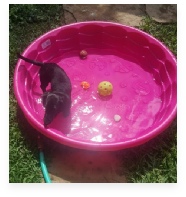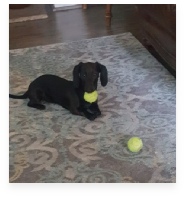 We just wanted you to see Baron on his 1st Birthday! Thank You again. He travels SO well and LOVES to go with us! He got to go with us to Galveston a couple of weeks ago and experience The Gulf Of Mexico. While he loved the beach, he did NOT like the water coming in on the tide! He TRULY is one of theGREATEST blessings that was sent to me. I only wished we could get him another Mini Dachshund playmate, male or female. We have been discussing if we should try to see if anyone would like to use him for Stud Service. He is a perfect Miniature Dachshund!!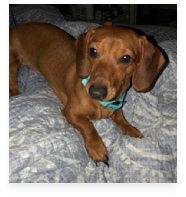 According to our customers, our puppies are !