Here is a picture of Jax who thinks he is the king of the house! (pic 1) Here is Jemma, Jaxson's half sister..She is finally growing! (pic 2) Brother and Sister (pic 3)


This is Bella. She was born August 27 to Billy Bob and Snowflake, We love her so much.


Molly and Mattie are more help than Santa could handle.



Both dogs are doing great. They both weigh about 5 pounds. Molly is the active one and Mattie is the layed back one. They are really fun to watch play. Our oldest daughter came to visit and brought her black/tan male, Mendle. Molly has the green collar and Mattie has the red. Molly and mendle (pics 1 and 2) Molly and Mattie (pic 2) Molly Mendle and Mattie (pic3)



Rusty spoiled in his new home!


This is Miss Harley Heart my adorable grandpup. She is the sweetest puppy ever. She never meets a stranger and is always so excited to see you. Harley is so smart. At five months old she is house broken, can sit, lie down, shake, give you five, give you ten, and sit up like a pretty girl. She weighs about seven pounds. The vet says she is very healthy. She is a pup of Mitzi and Billy Bob. And her momma, Catelyn, thinks she is the best present she ever received. - Posted by Pam S. In May I got a precious little puppy from you. Her name is Harley and she is my baby. She loves meeting new people and esp loves giving them kisses. Her best friend is my brother's great dane Oden. He is about 100 lbs heavier than her but he lays down to be on her level to play with him. She is very smart. She is house broken and on command she can sit, lay down, shake with her left hand, give 5 with her right hand, sit up, roll over and give me kisses. She loves being outside and playing with her toys. We like to call her our Creole baby because of her color mix and the fact that we are cajun. She loves her Grand-momma and PawPaw and especially her momma =) Thank you so much for Harley Heart! - Posted by Catelyn S. Miss Harley Heart (pic1) Miss Harley Heart (pic 2) Miss Harley Heart and her best friend, Oden (pic 3)


Hello, Buttercup is doing so well and a happy puppy. I am looking for a male dog preferably a tan, cream color that will be less than 10lbs full grown. Would a puppy of Penny and Shorty be possible? You raise the greatest winnie dogs. Thanks, Shauna, proud owner-mom of Buttercup - puppy of Billy Bob and Baby.

Hello Nancy. A few months ago I bought Sugars off you. Her mom and dad are Maisy and Wii Willy Wonka. She is white and brown.. I see you have another that was just born around July 14th that is a girl. I am very interested in her as my daughter wants one all to herself and we love the white cream colors on them..... Sugars waiting for her treat (pic 1) Sugars getting her treat for sitting (pic 2)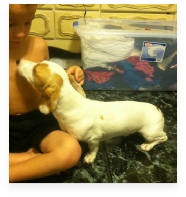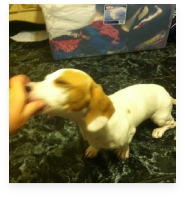 Liberty Belle is in a facebook photo contest! Stop by and vote for her until July 28, 2011 at http://apps.facebook.com/contestshq/contests/132831/voteable?_entries/25701651. She is such a sweet baby :)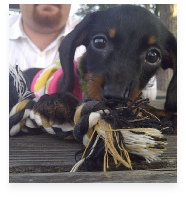 This is Myles! he is a happy and playful little man who loves everybody!!!! :) Myles! My little long man! :)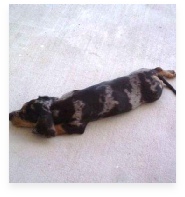 This is Thomas. He's going to be 2 this April. He's from Tammy and Rambo's litter. We couldn't have picked a better dog to be part of our family! He's looking for a weniette! lol. Hopefully he'll find his lady soon. :]

Picture of Cinnamon posted on Facebook by Johnny M.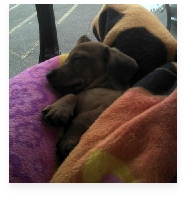 According to our customers, our puppies are !